Field of Dreamers News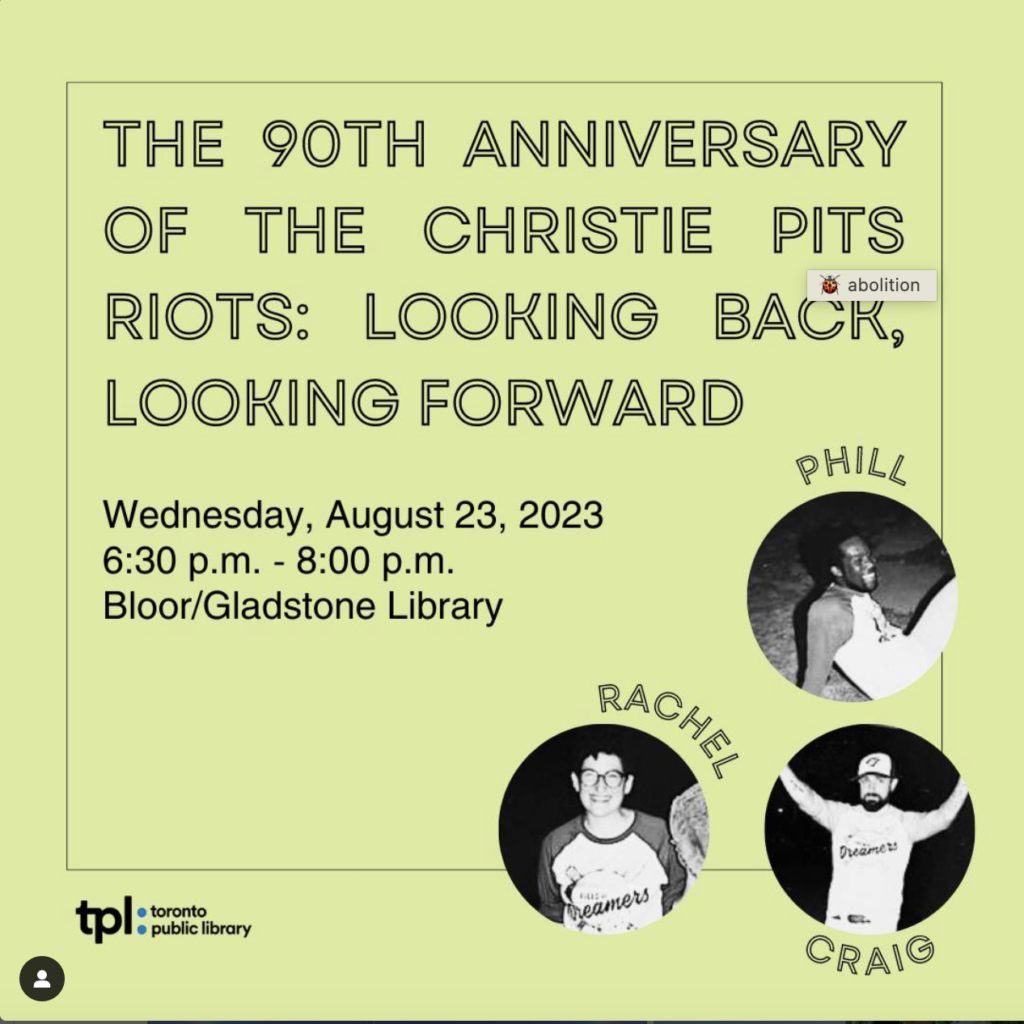 On August 16th 1933, close to 10,000 people took to the streets of Toronto in what is known as the Christie Pits riot. The riot was a response to the violence of the Nazi-supporting fascist 'Pit Gang,' who showed up at Christie Pits to terrorize a group of mostly working class Jewish and Italian baseball players. The players and their supporters defended themselves against the far-right attacks for 6 hours that night. The police did not stop the violence and in some accounts, actively supported the fascists.
This year marks the 90th anniversary of these riots. Please join the Field of Dreamers Cooperative Softball Association for a discussion on the intersections of sport, politics, anti-Blackness, xenophobia, anti-queer/trans* hate, and anti-Semitism today.
Free Tickets: https://www.eventbrite.ca/e/the-christie-pits-riots-looking-back-looking-forward-no-ticket-required-tickets-696135659497
Credit River Riot (1-1-0)
If the "Riot is the Language of the Unheard," Credit River has been "calm like a bomb" over the past three weeks. A convincing win against Garrison Creek in Week 11 was followed by a hard fought loss to Rouge River in Week 12. With the week off during Week 13, Credit will be re-energized for their final game of the regular season, before looking to takeover the airwaves with their guerilla radio in the playoffs.
Humber River Hungry Hippos (2-1-0)
Some teams might take a pause to rest for the playoffs when they have been so successful during the regular season, but the Hungry Hungry Hippos are chomping at the bit to maintain that high energy! The Hippos have been playing so many nail-biter games edging Rouge in Week 11, narrowly defeating Don in Week 12, and then coming up one run short of Garrison in Week 13. With an average weight of two tons, it's going to take significant effort to move the Hippos from the Championship Game.
Rouge River Bad N Rougee (2-1-0)
Spurred by the return of some of their key stars, the Bad and Rougee have been on fire over the last three weeks. A narrow loss to Humber in Week 11 was followed by solid wins against Credit River and Don River in Weeks 12 and 13 respectively. The Rougee can finish no lower than the third seed for the playoffs and will prepare during their off week for the first round of the playoffs – where a win will send them straight into the Championship game!
Continue reading

"Red Moon in Bougee"